Falls are very common as you age. Some falls are minor, but more than 800,000 older adults end up in the hospital after a fall. Head injuries and hip fractures are two of the most common reasons for a hospital stay after a fall.
Why do older adults fall more often? There are several factors, ranging from the side effects of medications taken for chronic health conditions to joint pain from arthritis. Find out where you should focus your fall-proofing measures in your dad's home.
Entryways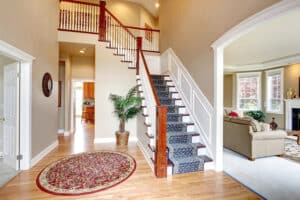 Entryways are an important area to focus on. If your parents don't have a spacious entry, they may take off shoes near the door. It might be the place that umbrellas, coats, and bags are set. If that's the case, they all pose a tripping hazard.
Lighting in entryways may not be bright enough as the entryway transitions to stairs. If there are shadowy areas, it can lead to a trip and fall. Entries also tend to have tile flooring. If it's wet, it's slippery.
Kitchen
Kitchen falls usually occur for one of two reasons. Water on a linoleum or tile floor can lead to slips. A non-slip kitchen mat near the sink and stove will help.
The other issue is reaching things in high cupboards. If your parent's balance skills aren't what they used to be, climbing onto a chair or counter to reach something can be dangerous. A step-stool with a sturdy handrail is important.
Sidewalks and Driveway
Sidewalks and driveways need to be clear of slippery leaves, packed snow, ice, and fallen branches. If a section of the sidewalk has cracked and is at different heights, it can pose a fall hazard. Those issues should be addressed.
Inside and Outside Steps
Make sure stairs both inside and outside the home have sturdy rails. Check that the stair treads are not loose. If anything is loose, fix it.
Bathroom
If the floor is linoleum or tile, it's going to be slippery when wet. Switching to non-slip vinyl plank flooring is a safer move, but it does require money. If there's no money in the budget, make sure there are non-slip bathmats.
Add grab bars inside and outside the bathing area and near the toilet. It's also helpful to add a non-slip rubber mat to the bathtub or shower floor to make it less slippery.
Do you need help making sure your dad doesn't fall again? With caregivers stopping by each day, you can have someone in his home at the times he's most likely to fall. If he gets dizzy after taking his blood pressure medications, caregivers can make sure he sits down and watches a movie until the dizziness passes.
Talk to a home care agency about caregivers, medication reminders, and companionship services. You should also ask about having caregivers there to support your dad as he gets out of bed, stands up from the sofa, and steps out of the bathtub or shower.
Sources:
https://www.cdc.gov/homeandrecreationalsafety/falls/adultfalls.html
If you are considering caregivers in Portage, MI, for an aging loved one, please call the caring staff at Fresh Perspective Home Care at (269) 329-4717. We are here to help!