For most of us, home is where we feel most comfortable, safe and content. But sometimes an injury, illness or life-altering circumstance makes it hard to stay at home without help. Perhaps your mom or dad is having trouble remembering to take medications or to eat. Your brave son or daughter is disabled by a devastating military injury. Your grandmother has Alzheimer's and your grandfather is exhausted and anxious caring for her 24/7.
Our home care help is customized to your needs. We offer a "fresh perspective" on what in-home care should be. Our caregivers provide a wide variety of services including activities and support that are tailored to your unique situations. We can help you build a care plan that enhances your or your loved one's quality of life with home care services.
Our Companionship Services Include:
Friendship and Conversation

Medication Reminders

Light Housekeeping

Monitor Diet including Meal Preparation and Planning

Laundry and Ironing

Assist with Pet Care

Letter Writing and Correspondence

Errand Services and Shopping

Respite for Family Caregivers

Oversee Mailing of Bills and Letters

Supervise Home Maintenance

Escort to Appointments

Recreational Activities

Playing Games/Cards

Grooming/Dressing Supervision

Home Management
What is In-Home Companion Care?
We are here to help your loved ones continue to live life the way they want from the comfort of their own home.
Light Housekeeping – We can assist with vacuuming, dusting, cleaning floors, cleaning bathrooms, cleaning kitchens, taking out the trash, straightening rooms, organizing closets and drawers.
Laundry Services – Washing clothes and linens can be a strenuous activity. We can wash, dry, fold, iron and put away a client's laundry for them, alleviating physical stress.
Meal Preparation & Shopping – Our caregivers work with our clients and their families to develop an appetizing and healthy meal plan that meets their specific diet requirements. We are available to grocery shop (with or without client) and prepare, cook and serve meals.
Friendly Visitor, Conversation & Company – Fresh Perspective Home Care will visit your loved ones at their home and spend time with them. From conversation to playing board games, companionship can be the best solution to help loved ones through the day.
Errands & Transportation – We can assist by accompanying and transporting clients to doctor/dentist appointments, personal appointments such as the beauty shop & barber, visiting family and friends, shopping, local errands and more
"Here I found growth, purpose, and a career to match my personal ambition of making a difference in the lives of others."  – Shelly
When your aging loved one needs home care in the Portage, MI area, Fresh Perspective Home Care has you covered.
Providing the best Companion Care at Home for seniors and families in Kalamazoo, Portage, Mattawan, Richland, Vicksburg, Schoolcraft, Three Rivers, Gull Lake, Yorkville, Otsego, and surrounding areas.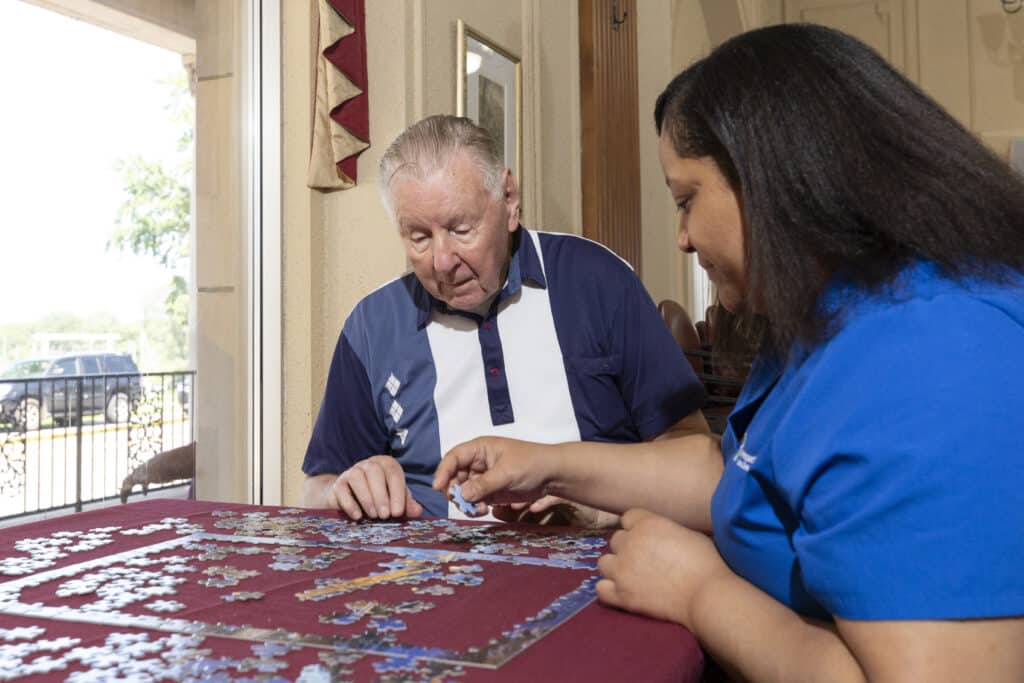 How Does Companion Care Work?
We offer companion care as part of the overall care plan. Companions typically make regular visits, which may vary in frequency depending on the care recipient's unique needs.
Usually, our caregivers visit at least weekly, while some may visit two to three times per week or even daily to help older adults prepare meals, take care of laundry, and other tasks.
Companion Care vs. Personal Care
When you need home care for your aging loved one, it can be challenging deciding what type of service will work best. Companion Care services tend to focus on social needs while personal care services emphasize medical and physical needs.
When choosing elder care, the difference between companion and personal is an important consideration in the decision process as they both provide different benefits based on a person's individualized requirements. 
Fresh Perspective Home Care companions can do your laundry, make you a delicious meal that's not just microwaved leftovers from the night before, and help out with errands like grocery shopping. They also provide emotional support to those who are grieving or struggling in their day-to-day lives due to illness or disability.
Personal care is an area of service that seeks to help people with basic needs, like personal hygiene. It can also provide physical assistance in the form of helping a person get up from their seat, grooming, eating, dressing, and toileting. 
Many older adults can age in place with the help of companion caregiving. However, seniors who require advanced care or physical assistance may need personal care to live at home safely.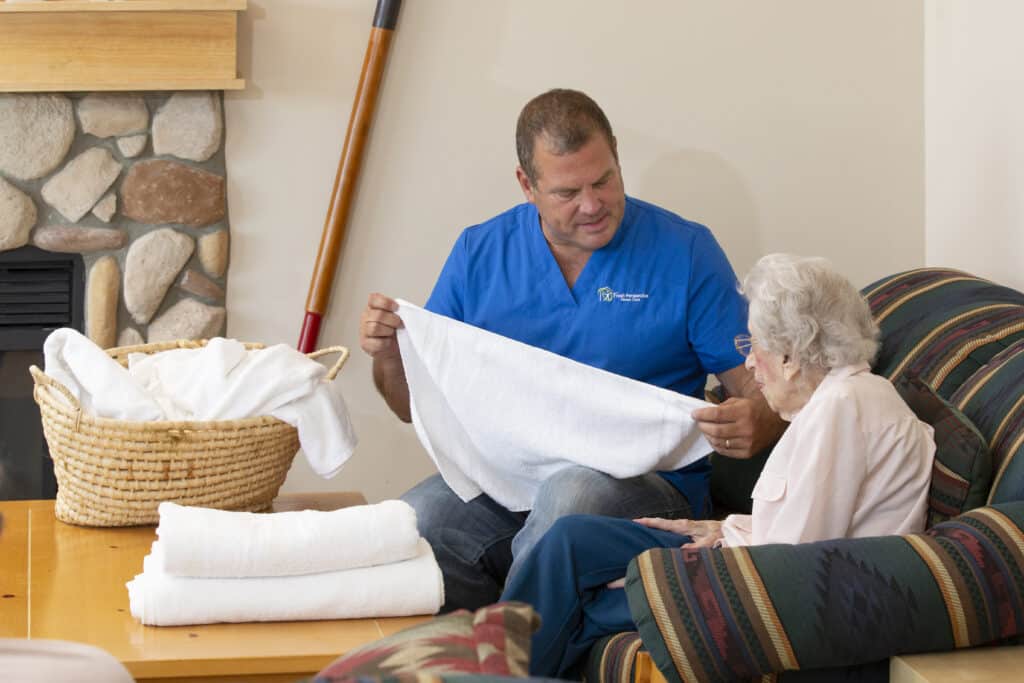 Let's chat about your senior care challenges. Our FREE in-home assessments will help you pick the right care options.
Our Companion Care Services Pledge
We demonstrate the commitment to our Values through our pledge to:
Treat all of our Clients and Team Members with kindness, dignity and respect

Communicate openly and honestly, listen carefully and respond thoughtfully

Keep our promises to our Clients and fellow Team Members

Foster a spirit of collaboration and teamwork that values honesty and diversity

Create a work environment that is friendly, fun, caring and sensitive to work/family balance

Encourage continued professional growth through training and career advancement

Design and deliver in-home care that promotes client independence and wellness

Align ourselves with service organizations and professionals who share our Values

Share who we are and what we do so we may continue to be a trusted provider to our Clients and a respected employer in our community and to our Team Members.