Fresh Perspective Home Care offers you just that…a Fresh Perspective to in-home care support services where our client needs come first. We believe that personal, respectful, compassionate care makes all the difference to our clients. This is what gives us a "Fresh Perspective" to in-home care services. Personal and Compassionate Care along with Dependable Service, Continuity of Care, Peace of Mind, Respectful Interaction and Quality of Life are central to care programs that we developed with our clients to help them Live Independently.
Our commitment to our clients and quality care has put us at the top of list when working with case managers, discharge planners, trust officers, contract agencies, waiver agents, families, and friends. We begin with a full nursing assessment and design a customized personal care plan that is unique to the clients specific home care needs. Our RN will then supervise the care plan by conducting scheduled periodic assessments to ensure the plan continues to meet the clients changing needs. Our RN will work to keep the family and or Case Manager updated as to the clients progress while ensuring that the best of care is being provided at all times.
A "Fresh Perspective" is why so many people throughout Southwest Michigan turn to us. We compassionately care for seniors, those recovering from surgery or injuries, expectant and new mothers, disabled veterans and anyone who needs help maintaining their independence by staying at home.
Let's chat about your senior care challenges. Our FREE in-home assessments will help you pick the right care options.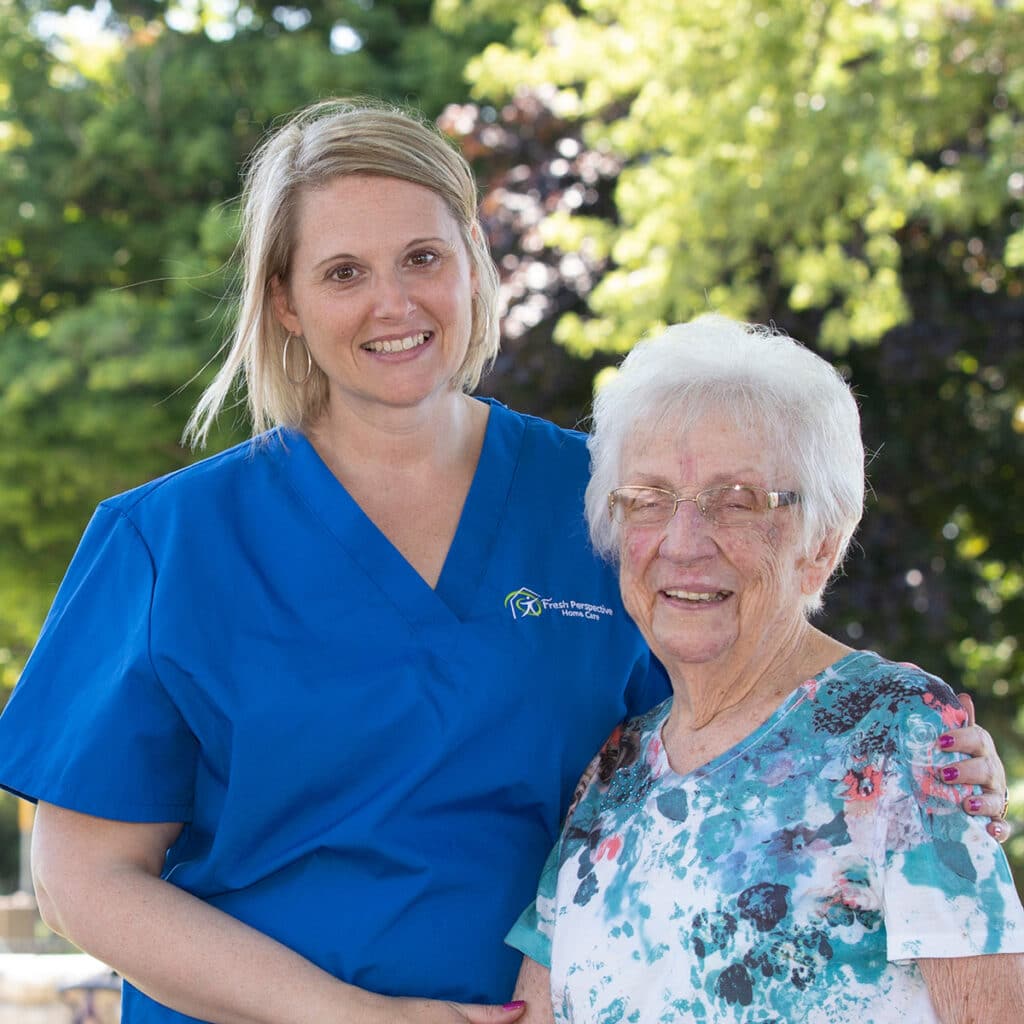 Shelly Nutter, Area Vice President
Shelly Nutter has been a driving force in the Fresh Perspective Home Care team since 2008 and is currently the Area Vice President. She began caring for others at a young age and has never looked back. Her strong faith and family values drives her passion for helping others. Shelly says she never found a career that fulfilled a "bigger purpose" from her previous jobs until she began her home care career with Fresh Perspective Home Care. 
"Here I found growth, purpose, and a career to match my personal ambition of making a difference in the lives of others." 
Shelly is native to the Kalamazoo/Portage, Mi area and has been married for over 25 years. Together they have three children that she believes have benefited from watching Mom work hard to help others, advocate for others, and give to others. She also holds a bachelors degree in Accounting and an associates degree in Business Management.
To service our clients with honest, patient and compassionate care in the comfort of their own home with a focus on their privacy, dignity, well-being, and overall quality of life. To create an environment where our team members are provided with meaningful opportunities for a career in Home Health Care. We support this mission with ongoing training, innovation, selective hiring practices and constant reinforcement of our core values.
Fresh Perspective Home Care strives to be the Best-In-Class in-home care provider in southwest Michigan, attract Team Members who share our Values and have a positive impact in the communities we service.
Our Values define who we are and permeate all aspects of our business and daily interactions with our
Clients, Team Members and the community
We make a difference in the lives of those with whom we interact
We respect the privacy, dignity, and opinions of our Clients and Team Members
We support our community and strive to be a positive influence
We provide caring support at all levels
We are compassionate, kind and respectful
We are professional
We communicate effectively
We keep our promises
We support overall health and wellness
We promote independence and success
We value diversity, collaboration, and teamwork
We are friendly and fun
We genuinely respect and care about our Clients, our community and ourselves
We demonstrate the commitment to our Values through our pledge to:
Treat all of our Clients and Team Members with kindness, dignity and respect
Communicate openly and honestly, listen carefully and respond thoughtfully
Keep our promises to our Clients and fellow Team Members
Foster a spirit of collaboration and teamwork that values honesty and diversity
Create a work environment that is friendly, fun, caring and sensitive to work/family balance
Encourage continued professional growth through training and career advancement
Design and deliver in-home care that promotes client independence and wellness
Align ourselves with service organizations and professionals who share our Values
Share who we are and what we do so we may continue to be a trusted provider to our Clients and a respected employer in our community and to our Team Members.