Research on seniors shows that loneliness can lead to serious physical problems that shorten life. According to the National Academies of Sciences, a quarter of all people over 65 in the United States are socially isolated.
The same study found an astonishing relationship between social isolation among the elderly and early death. Among older people with heart conditions, loneliness makes them four times more likely to die.
Loneliness also triggers increases in eating, smoking, and drinking. As a consequence, isolated seniors are more likely to suffer from obesity, lung disease, and liver disease.
Isolated seniors even have a much higher risk of developing dementia, stroke, or heart disease. One is tempted to conclude that loneliness is one of the greatest, if not the greatest, danger facing the elderly today.
Causes of Isolation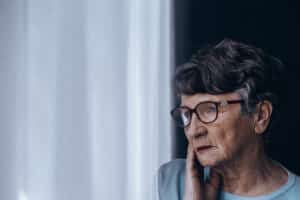 Seniors often find themselves living alone because a spouse has died. Similarly, beloved siblings and friends may also have passed on, leaving a senior without the strong social network he had when younger.
And making new friends can be harder than before if a senior has physical disabilities that make it harder to leave the house.
Typically, the children of a man or woman over 65 are grown and have families of their own to manage. These adult children may care deeply about their elder parents, but find it difficult to fit a visit to parents into a day that's full of work and raising children.
Encourage Virtual Social Engagement
One of the best things adult children of seniors can do is to encourage parents or grandparents to engage in enjoyable social activities. Because of the high risk of death from coronavirus, seniors currently need to engage in social activities that keep them safe.
Many clubs and charitable organizations hold online meetings. A home care professional can help your senior navigate the technology needed to participate in these meetings. Zoom and skype sessions also make it easier for seniors to stay engaged with loved ones without risking infection. There are also many online classes available to seniors. Ask your home care professional about interactive online classes that your senior could join.
Professional Elderly Home Care can Fill the Gap
One of the most valuable services that home care professionals provide is companionship. Elder care specialists are well trained to socialize with older clients of all walks of life.
Sometimes, just a few hours a week of elder care can substantially relieve the pain of loneliness and the health risks that come from isolation. And, while providing companionship, your home care worker will also check on the health and safety of your senior and do home maintenance tasks like emptying the dishwasher and changing a lightbulb.
If your senior is too proud to have paid companionship, you can always frame home care as a matter of helping with daily chores. The conversations will still happen, and your senior will feel more connected.
In conclusion, the risk of loneliness to seniors is greater than we imagined. But there are many solutions. Children and grandchildren have multiple options for keeping their beloved elders socially engaged.
Sources
https://www.cdc.gov/aging/publications/features/lonely-older-adults.html
https://www.nhs.uk/conditions/stress-anxiety-depression/loneliness-in-older-people/
https://www.nia.nih.gov/news/social-isolation-loneliness-older-people-pose-health-risks
If you are considering elder care in Galesburg, MI, for an aging loved one, please call the caring staff at Fresh Perspective Home Care at (269) 329-4717. We are here to help!