Movement is one of the best ways to manage chronic pain, and there are a lot of seniors who are living with this condition. Some studies estimate that 75% of seniors or more live with pain most of the time. Medications can help alleviate some of the pain, but those medications can have side effects. They can also interact with some of the medications that your senior loved one is already taking. Movement helps seniors by minimizing or getting rid of senior pain. But what exercise can seniors do if they're already in pain? There are actually quite a few exercises that are great for seniors who have chronic pain:
Tai Chi
Tai Chi is a martial art that is done very slowly with precise movements that are designed to increase flexibility and strength. It's a great exercise for seniors because of the pace and because of the many benefits it offers. If you look you may be able to find a Tai Chi class offered a local senior's center or find a local group that practices in a park or outdoors. Talk to your senior loved one to see if they'd be interested in this fun activity.
Walking
Walking is really one of the best things that seniors can do for good health. It's easy to do. It doesn't require a lot of equipment. And almost anyone can do it. The benefits of walking are substantial and one of those benefits is less pain. If you can't walk with your senior loved one most days a senior home care provider can take your senior out walking each day to make sure that your parent is getting the activity they need to feel better.
Swimming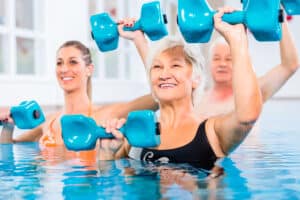 Swimming, like walking, is one of the most recommended exercises for seniors. Swimming is a low impact cardio activity that won't hurt your senior loved one's knees or feet because there's no impact. A senior home care provider can help your senior loved one get to the gym or the public pool for swimming laps or for senior water aerobics classes that are paced perfect for seniors who are trying to stay fit.
Strength Training
Strength training is an activity that more benefits for seniors than people realize. Strength training is something that seniors can do at home but it's a good workout. It will help seniors hang onto the muscle that they have and increase their strength. More strength means more freedom of movement. And that means less chronic pain for seniors.
Yoga
Yoga movements that are adapted for seniors can also help seniors build strength and maintain flexibility. Often senior centers and other places that hold events for seniors have yoga classes that are specifically designed with the needs of seniors in mind. Senior yoga classes can also help seniors manage stress and learn to meditate. Reducing stress can help reduce chronic pain so taking a yoga class could have multiple benefits for your senior loved one.
Sources:
https://www.healthline.com/health/exercises-to-reduce-chronic-pain
If you are considering senior care in Parchment, MI, for an aging loved one, please call the caring staff at Fresh Perspective Home Care at (269) 329-4717. We are here to help!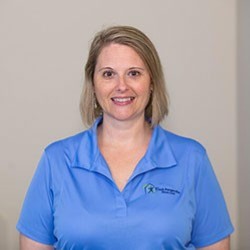 Latest posts by Shelly Nutter
(see all)